, Miguel Mora Paris 20/02/2013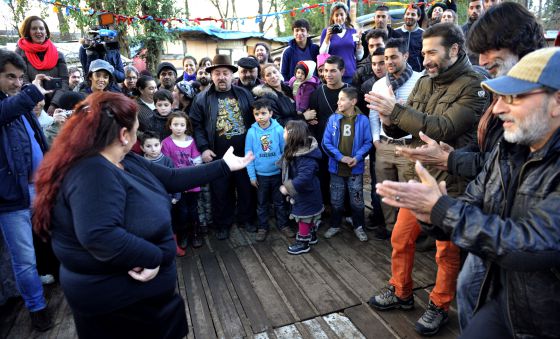 During his presidential campaign, François Hollande promised a different immigration policy from that of his predecessor, Nicolas Sarkozy. « There will be no mass deportations, just on a case-by-case basis, » said the Socialist candidate to the French presidency. « No minority will be stigmatized or used as a scapegoat. »
Yet nine months after coming to power, this promise has melted away. Interior Minister Manuel Valls has even broken the deportation record held by his predecessor, the ultra-conservative Claude Guéant. Last year, 36,822 foreigners were sent back to their countries, an 11-percent rise from the 33,000 deportations of 2011, according to official figures.
A third of these deportees were European citizens: Romanian and Bulgarian Gypsies.
Several episodes of discrimination in recent weeks suggest that Hollande and Valls' immigration policy is identical to that of Sarkozy and Guéant, as human rights associations claim. In Marseille, pregnant women and children were illegally deported. In Paris's 15th district, Gypsy children were barred from admission to school. In Val-d'Oise, Roma pupils were denied access to the school cafeteria.
Stéphane Maugendre, leader of an immigrant support group called GISTI, has complained about « the brutality and abuse » of the authorities against Gypsies, emphasizing that this persecution is used as « a bargaining chip in an increasingly critical economic and social context. »
Persecution is used as a bargaining chip in an increasingly critical context »
The most disturbing case of discrimination is currently taking place in Ris-Orangis, a dormitory town 23 kilometers from downtown Paris, south of Orly airport and very near Evry, the municipality where Interior Minister Manuel Valls — who is originally from Barcelona — built his legend as a politician/gendarme.
The mayor of Ris-Orangis — a desolate place with buildings dating back to the 1960s and hardly a white face in view — is Stéphane Raffalli, a Socialist politician from the province of Essone, where Valls and the party's main voter base is. Raffalli declared war on the illegal Gypsy shantytowns, and in August of last year he targeted a bidonville (shantytown) built by several Romanian families on an empty lot under a freeway.
His goal of razing the shacks, however, met with opposition from the actual owner of the land, the Conseil Général (provincial authority). Far from backing down, the mayor made his next move: in September, he refused to let 13 children from the shantytown attend the local school.
« It is an obvious case of apartheid, » says Sébastien Thiéry, founder of an association named Perou, which has built an « embassy » at the makeshift town: a great big pinewood cabin that doubles as a church and a drawing workshop.
Raffalli claims that the classrooms are already full, that the children's paperwork is incomplete and that he has no resources to manage « so much poverty. » For now, all he has agreed to is to place the Gypsy children, aged between four and 12, in a special classroom, which is actually a gym annex.
Galván is in Paris with his stage show about Nazi persecution of the Roma
It still seems better than the solution they came up with in Saint-Fons, in the outskirts of Lyon, where Roma children are going to class inside a police station. Non-profit groups have defined this new concept with the expression « ethnic classes, » and both the Education Ministry and the ombudsman, Dominique Baudis, continue to demand that the children be admitted into regular school.
Anne, a young volunteer at the camp, notes that « mayors know that if the children are enrolled in school, it is much harder to throw out their families. »
Back at the shantytown, last Friday was a day of celebration. The Spanish flamenco star Israel Galván, whose mother is Gypsy, had come to learn about the situation first-hand and to perform for its inhabitants. Galván is currently in Paris with his stage show Lo Real , a personal interpretation of Nazi persecution and the Gypsy holocaust, known as the Porajmos, which took the lives of 600,000 Roma and Sinti Gypsies.
There are around 30 shacks in this particular bidonville, each more precarious than the next. The earth is dark and damp, and there is no electricity or running water. It is home to 130 adults and 40 minors. Many of the children were born in France because their families arrived here 10 years ago, explains Dragomir, a young father of three. Dragomir says that he arrived in Paris in 2004, that he has been evicted « 16 times » since then, that all the residents of this shantytown are from the same village, Bius, and that 80 percent of them are Roma.
The hosts of the party have set up a wooden platform covered with blue canvas so Galván can perform for them, and a sign over the entrance reads one of his own thoughts: « I am using up now the energy I won't have one day. »
Wearing running shoes, orange pants and an anorak, Galván dances bulerías and tonás (one of the oldest flamenco genres), and when he ends he looks happy and even moved: « I have seen many faces like my grandmother's, » he says. « It's incredible that the pictures from the 1940s that we used to prepare the show look a lot like this. Now the piece has more meaning. Lo Real is a personal look, not a political one, at the Gypsy genocide, about death. It's about the notion that despite all the troubles, what saves us Gypsies is our cheerfulness, our energy, our joie de vivre. Seeing the joy of these people makes me think we got it right; it's like closing the circle. But the best gift would be to know that the performance served to help them. »
« What the mayor's office is doing is illegal, » insists the activist Sébastien Thiéry. « It was already happening when Sarkozy was in power. It is done by many leftwing and rightwing mayors. It's not a party thing, it is French society that is sick of and obsessed with the Gypsies. »